Email Marketing
Email marketing is used to promote your business's products or services and it helps with brand awareness, lead generation and marketing automation, which, in turn, allows businesses to build relationships or keep customers engaged between purchases through different types of marketing emails.
How can Kulture Konnect support your email efforts?
Traditionally, email marketing was considered as a way to reach people en masse. However, today, email marketing has moved away from mass mailings to a focus on consent, segmentation, and personalization. To the naked eye, this sounds like a lot of work, but marketing automation handles most of the heavy lifting for you. A well implemented strategy will make an impact not only on your brand equity, but also on your sales. We can help you with
Email strategy
With an email marketing strategy, a company can set specific goals (i.e.: increase customer engagement, maximize ROI, etc.) that would allow you to plan when to send time-based promotions or non-promotional emails. We can help you with an editorial calendar, list building tactics and list segmentation.
Email template design
After defining your goals, it is important to follow your brand guidelines to define the visual look of your emails. We can help you with the design of an email template for promotional and non-promotional messages.
Content
Your email content can be a dealbreaker and can mean whether your recipient reads or deletes your message. We can help you with subject line optimization, CTAs, imagery and body copy.
Email formatting
Once you have your defined your content, it is time to format it into your email template. We can help you set up your email template on your preferred deployment platform (campaign monitor, mail chimp, Hubspot, etc.) and format your content according to your editorial calendar.
Deployment and monitoring
Monitoring the success and performance of your email campaigns is key to adjust your strategy. We can help you with the scheduling of your email as well as the tracking of specific metrics to make informed decisions.
Types of email marketing
We group emails in three main categories. Each category serves a different purpose and needs different ways of implementation. These are such categories:
Promotional emails. This type is the most well known. They are used to promote special offers, products, gated content (ebooks, checklists, videos and webinars). Promotional emails have a clear call-to-action (CTA) that directs the user to take a specific action, i.e: visiting a page on your website, making a call or using a coupon to make a purchase.
Informational emails. This type of email encourages users to learn more about your product or service. They include welcome emails, confirmation emails, newsletters, announcements, invites, surveys.
Lead nurturing emails. This type of email guides the user through their buyer's journey and targets them through a series of emails with the goal of eventually converting them. These are dedicated emails that can be triggered automatically through workflows after a form has been filled or based on recent purchases, inactive clients, new members, and other specific types of criteria.
Re-engagement emails. Another important type of marketing email is the re-engagement email. As the name suggests, re-engagement emails help reconnect with customers or subscribers who haven't been active lately. This is directly connected with your marketing automations that include sequences and workflows.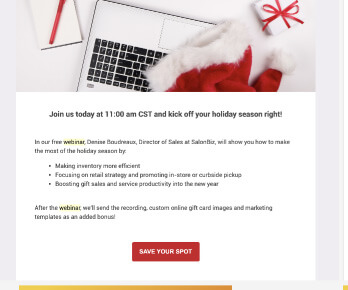 Informational Email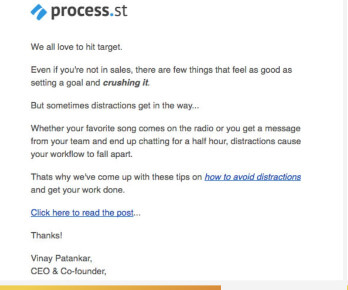 Lead Nurturing Email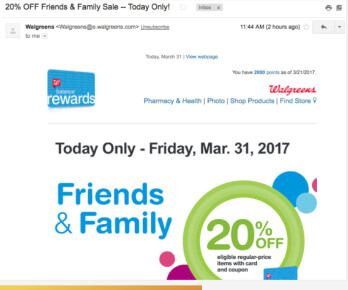 Promotional Email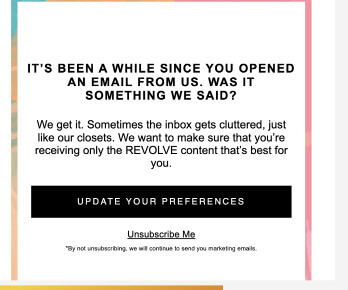 Re-engagement Email
Tips for building your email marketing list
Unfortunately, an email strategy can't be successful if you don't have a list. So, how do you build it? The first rule to follow is to not buy email lists. Email marketing companies have a strict, permission-based policy when it comes to email addresses. Instead, create different ways that encourage your users to opt into receiving messages from you by using lead magnets. Some examples can be discounts on orders, free shipping, or a chance to win a prize.
Make sure you consider any legal requirements and applicable laws in your area when sending automated emails, like the CAN-SPAM Act.
Benefits of an email marketing strategy
Email marketing helps you achieve three key objectives:
Conversions. Emails with personalized coupons or offers will provide you with additional support for your sales efforts. Also, automated emails, such as abandoned cart emails, that can be triggered depending on user behavior can help you re-engage your audience
Brand awareness. Nowadays, email is a curated space because people don't just let anyone into their inbox. Being able to have your message show up in someone's inbox will help you gain and maintain exposure and stay top of mind.
Customer loyalty. Email is all about driving customer loyalty at every stage of the buyer journey and it is a necessary tool to use alongside your CRM to streamline communication.
How can I measure the ROI of a successful email marketing strategy?
As with any other marketing initiative, the best way to start measuring your success is by knowing your email marketing goals. Email can be used to reach a variety of objectives:
Raising brand awareness
Lead nurturing
Increasing sales and revenue
Website traffic
Once you know your goals, the next step will be to understand email metrics. These metrics will help you understand how your campaigns perform. Email platforms such as Campaign Monitor or Chimpmail help you track various KPIs such as:
Open rate. This is the comparison between the number of emails opened by recipients against the total number of emails delivered. This KPI it is very important if you do AB testing as it will provide you with more insight about what grabs your recipients' attention.
Click rate. This gives you the percentage of total recipients who clicked any tracked link in the campaign. This is relevant because it gives an indication of what recipients'' are clicking on the most.
Bounces. This metric tells you when an email is rejected by an email server. This is particularly helpful to keep a clean and organized list for deliverability. There are 2 types of bounces—a hard bounce or a soft bounce. A hard bounce is when an email couldn't be delivered at all because the email address is incorrect or doesn't exist. A soft bounce is when the email could be delivered, but the inbox might have been full, then it bounces.
Unsubscribes. This tells you who and how many people opted out from your list. It is normal to have people who choose to unsubscribe, so, it is always good to keep an eye on this metric to monitor drastic changes.
Device. This metric tells you what devices are being used by your list to read your emails. This is useful because it allows you to optimize your emails to those specific devices, which could make a huge difference on segmentation, design and content decisions.
Spam score. This tells you whether your email is being marked as spam and at what rate. If you have a high spam score, your audience might not find your content relevant. This can impact your deliverability directly.
Once you have defined and understood email metrics, it is time to figure out how to identify your KPIs. The most common are:
Conversion rate. This KPI measures how many people in your list took the specific action you wanted them to take. For example, if the goal of your email is to get people to sign up for a webinar, the conversion rate measures the number of people who fill out your form from your email.
Return on investment (ROI). This is a simple way to measure how cost-effective your campaign is. The formula is fairly easy: profit - cost / cost. So if you deployed an email campaign and you made $5K and your cost was $1K, then it would look like this: $5K - $1K / $1K, which would give you an ROI of 40%.
Cost per acquisition (CPA). This will tell you how much you're spending to get one new customer. The formula is total campaign cost / conversions (paying customers) = CPA.
Email marketing helps your business promote your products and services or to connect with your customers.
When it's done well, email marketing can influence the sales cycle tremendously, but when it's done wrong, email marketing can come across as spam that annoys customers. Always make sure to optimize for mobile devices, respect your list, implement a regular schedule and have messaging that is relevant to your audience.