Inbound Marketing
Inbound marketing is the process of helping potential customers find your company by creating valuable content and experiences tailored to them.
How can Kulture Konnect support your inbound marketing efforts?
If we were to compare it with outbound marketing, this one seeks out customers by interrupting your audience with content they don't always want, while inbound marketing focuses on creating connections by solving problems they already have. So, instead of a shotgun approach, your business could focus on building awareness (attract), developing relationships and generating leads (engage), and providing continued support after purchase (delight). We can provide you with support in the following areas:
Setting Goals
This is the first step when creating an inbound marketing strategy. We can help you identify your KPIs, goals, processes, buyer persona and pinpoint what your competitors are doing.
Getting Found
Once your audience and goals have been defined, it is important to figure out how people could find you. In this stage we can help you with keyword research, on-site and off-site SEO, PPC, editorial calendar for premium content resources, blogs and social media, blog article writing and social media advertising.
Getting Leads
Inbound marketing's backbone is what we call premium content resources (PCRs). We can help you with figuring out your expertise to create resources such as e-books, webinars, white papers, checklists, case studies and more. Once your expertise and editorial calendar have been defined, we can develop campaigns around it that will include submission forms, landing pages and call-to-actions (CTAs).
Acquiring Customers
Once a lead comes through the system, it is important to have a process in place so your marketing and sales team are on the same page in terms of the best next step. We can help you manage your CRM so you can create lifecycles that allow you segment leads based on who they are, how much and the type of interaction they've had with your business online, and more. Based on this, we can offer you support to nurture your lead through automated workflows that can be triggered on specific criteria.
Customer Retention
Getting found, getting leads and converting are great inbound marketing goals. But, another objective of this methodology is the continued relationship with your customers so the become your brand's promoters. We can provide you with support generate and deploy educational pieces through workflows and newsletters.
Analytics
Knowing how your inbound marketing efforts are performing is very important to make smart marketing decisions. We can help you set up your marketing dashboards on Hubspot based on your goals and KPIs and we'll guide you on how to read them.
Contact us now to pick our brains about how to get your inbound marketing program started.
LET'S WORK TOGETHER
What is the flywheel?
Attract, engage and delight are the foundation of an inbound marketing strategy and what is called the flywheel.
A lot of businesses get entangled in their day-to-day operations and end up making short-term decisions that sacrifice long-term relationships, compromise their values and mislead customers. They forget that the purpose of any brand is to deliver a remarkable customer experience – that's where the flywheel comes into play.
Invented by James Watt, the flywheel is simply a wheel that's incredibly energy-efficient. It works in three different ways:
How fast you spin it. The amount of energy it stores depends on how fast it spins. This way you can build momentum by investing in strategies that acquire and retain customers.
How much friction there is. This is anything that slows down your flywheel and it normally happens in the handoffs between teams. This means that communication between teams is key to keeping your flywheel spinning.
How big it is. The more you increase speed and decrease friction, the more you will create promoters of your business. And all those promoters become a constant energy that will allow you to keep your flywheel spinning and growing.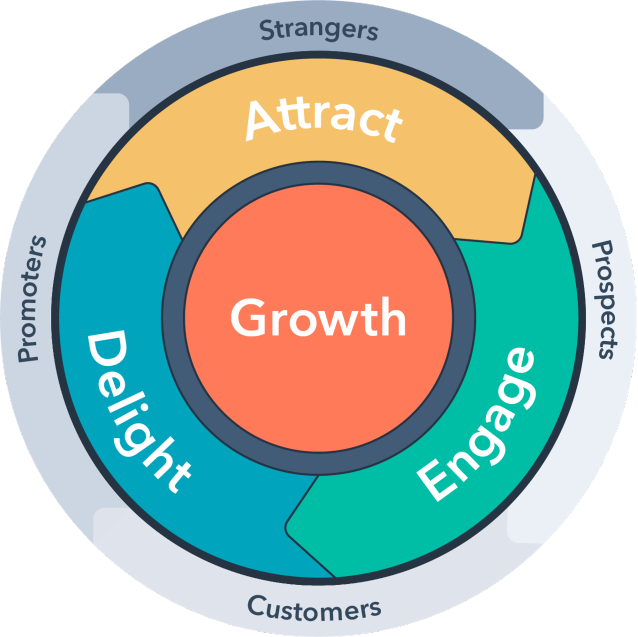 Benefits of an inbound marketing strategy
One of the main reasons that inbound marketing is so valuable is that people don't feel like they're being sold to because the main purpose is to educate consumers about your product or service and accompany them through their buying process. With these said, we identify three key benefits when using an inbound marketing strategy:
The customer is in control. This means that you connect with people who are genuinely interested in what you have to say.
Impact across channels. From your social media to brand awareness to SEO efforts, the organic impact can be immense and everlasting.
True MQLs. Because customers are engaging on their own terms, you can be sure that any lead that you generate is a step closer to becoming an SQL easier and for much less money than traditional marketing.
Empowering your prospects and customers with all the information they need to make a buying decision will have a positive and lasting impact on the equity of your brand, but more importantly, it will allow you to transform customers into ambassadors.
How can I measure the ROI of a successful inbound marketing strategy?
Implementing an inbound marketing strategy is a long-term commitment. However, as an investment, it will help you:
Increase brand awareness
With the right content and messaging in place you can maximize performance on search engines.
Increase brand preference
By educating and interacting with your prospects and customers, you build trust and increase the likelihood they will choose your products or service when they are ready to buy.
Increase lead generation
One of the strongest benefits of inbound marketing is organic lead generation. It generates three times more leads per dollar than traditional methods (Content Marketing Institute)
Increase website traffic
A quick win when implementing an inbound marketing strategy is when you start seeing your organic visits increase over time. This is directly related to the fact that you're offering valuable content that solves your prospects and customers problems. According to HubSpot, businesses with content marketing strategies say web traffic is their top two measurements for campaign success.
Increase staff productivity
If you have a good strategy in place, you can make sure to avoid wasted efforts. Inbound marketing is all about working smart with the resources you have, so make sure that your strategy outlines your internal team, what is expected of them and how it can be maximized to increase the chances of success.
There are different techniques for inbound marketing. However, one of the first things to consider is understanding your audience and what they want from you as a brand. This can be done through research and data. Once this information is in your hands, you can determine your strategy, channels, tools and resources to launch an initiative that speaks directly to your target.
Contact us now to pick our brains about how to get your inbound marketing program started.
LET'S WORK TOGETHER