Marketing Automation
In a nutshell, marketing automation is a technology stack that allows your business to process campaigns across multiple channels automatically.
How can Kulture Konnect support your marketing automation efforts?
With a marketing automation strategy your marketing team can automate repetitive tasks such as email marketing, social media posting, and even ad campaigns - not just for the sake of efficiency, but also to provide a more personalized experience for their customers. This means that tasks can be done faster and more effectively. We can offer you support to do the following:
Streamline your workflows
We can help you create and streamline your workflows to automate marketing processes such as email, ads, web, chat, and more. This will not only make your team more efficient, but will also create a better customer experience.
Automate lead nurturing
We can provide you with support to define your segmentation and targeting processes to determine the right audiences so you can automate your email campaigns and move prospects further down the funnel while generating more leads. Based on the segment and target, you will be able to choose from dozens of triggers, conditions, and actions to send the right emails to the right leads at the right time.
Integrate data and analytics
We can help you set up your dashboards so you can measure the performance of your marketing automation. This will allow you to make smarter marketing decisions.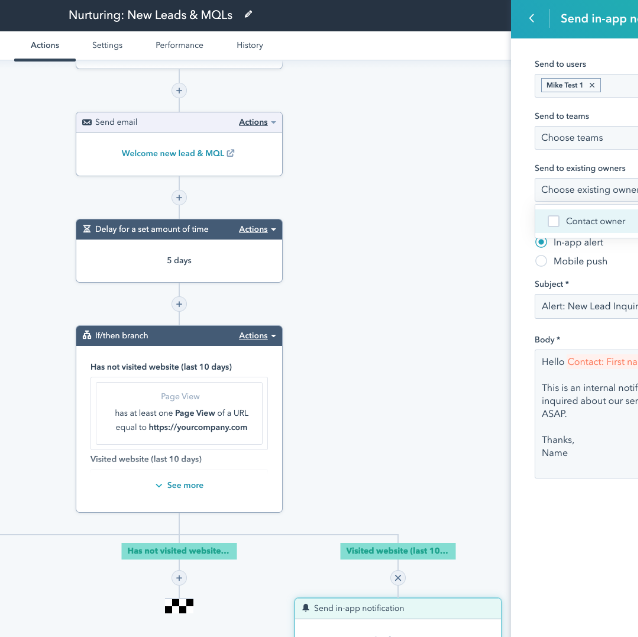 Contact us now to pick our brains and get some ideas on how to automate your marketing.
LET'S WORK TOGETHER
Create a business that your customers love?
Today, we know for sure that to grow and become a brand that everyone loves you don't have to be ruthless shoving your products or services in your customers' face. This leads businesses like yours to make short-term decisions that puts customers' trust at risk and sacrifice long-term relationships.
According to marketing expert John McTigue, if your marketing strategy does not include automated marketing, you are just guessing and hoping that people will buy your product or service. He says that statistics show that buyers don't just go for it, "they want to learn at their own pace and be reached when they need more information or are ready to buy. A well-constructed marketing automation strategy makes that a reality." This makes marketing automation no longer a nice-to-have, but an essential. And the stats speak for themselves:
Marketing automation technology is expected to show a 14% compounded annual growth rate (CAGR) over the next five years.
The highest growth for "through-channel marketing automation" platforms will reach 25% annually, with "lead-to-revenue automation" platforms at 19.4%.
At Kulture Konnect, we know there is a better way to grow — we've tested it and lived it. That better way to grow comes in the form of placing long-term relationships ahead of short-term gains. This means that your business exists to solve your customer's pain points, which, in turn, will create trust and loyalty. This means that you need to think about how to attract strangers, engage prospects and customers and delight them so they become promoters to help you grow your business. This model is called the Flywheel.
But this is easier said than done, how do you get from where you are today to your future business goals? It takes the right tools and a good strategy to make things work. In terms of strategy, it should take into account existing challenges you are experiencing today, and your plans for the future. After this, you need to ensure you have the right tools, from top executives to team members in the trenches, to implement your business growth strategy to better serve customers, and win more business. This stage is especially important because it is at this time where integration between your strategy and the tools you're using can start to show up.
How can I measure the ROI of a successful marketing automation strategy?
Marketing automation has many benefits that allow marketers to deliver results that prove ROI, including:
The use of a central marketing database
Here is where all your marketing data lives such as detailed prospect and customer interactions and behaviors. Having a centralized database will allow you to segment and target the right message to each customer depending on where they are in their journey.
Having a strategy
Many business owners and marketers simply jump over implementation without a clear strategy of how things are supposed to work. Having a good understanding of your goals and objectives will allow you to have a strong strategy that can help you define the various steps in a buyer's journey and what reporting and tool set is needed to implement it.
A way to track and analyze
Having the right data will allow you to make informed decisions. Here you can make determinations about testing, measuring and optimizing your marketing and how it impacts your bottom line so you get a clear visual on what worked, what didn't and where you can improve.
MarTech
This is your tool box. It should be a place where you can create, manage and automate the processes to generate and nurture your marketing qualified leads and maintain a marketing­-sales alignment.
In addition, a marketing automation program should allow you to optimize your marketing investments as it can help reduce administrative overheads to savings of 3.4% on average, with most companies saving between 1.5% and 5.2% (Lido); contribute to faster revenue growth where a simple tweak of your lead scoring can increase your sales productivity to up to 28% (MarTech Alliance); and help you save money and time through the nurturing process, which can result to up to 50% more sales leads at 33% lower cost per lead (Madison Logic).
Marketing automation is there to help you manage and scale marketing activities across channels, without the need for additional resources. This results in more time for your team members to complete other tasks and reduces the margin of error that could happen when handling large amounts of consumer data.
Contact us now to pick our brains and get some ideas on how to automate your marketing.
LET'S WORK TOGETHER